دوقلوی زمین کشف شد
منجمان وجود سیاره ای شبیه به زمین در "ناحیه قابل سکونت" اطراف یک ستاره که بی شباهت به خورشید نیست را تایید کرده اند.
این سیاره که "کپلر 22- بی" نامگذاری شده حدود 600 سال نوری از ما فاصله دارد و تقریبا دو و نیم برابر زمین است. دمای آن 22 درجه سانتیگراد تخمین زده می شود.
تاکنون سیاره ای تا این اندازه شبیه به زمین در این فاصله پیدا نشده بود با این حال این تیم هنوز نمی داند که آیا این سیاره عمدتا از چه جنسی تشکیل شده - سنگ، گاز یا مایع.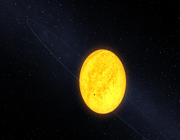 در جریان کنفرانسی که این نتایج در آن اعلام شد، تیم تلسکوپ کپلر گفت 1094 سیاره تازه را شناسایی کرده است.
تلسکوپ فضایی کپلر برای رصد همزمان بخش ثابت و پهناوری از آسمان شب طراحی شده به طوری که 150 هزار ستاره در میدان دید آن قرار می گیرند.
این تلسکوپ آنقدر حساس است که می تواند عبور یک سیاره از برابر ستاره مرکزی را ردیابی کند؛ گذری که باعث افت نور ستاره به مقدار خیلی خیلی کم می شود.
وظیفه کپلر ردیابی این تغییرات بسیار خفیف در ستاره مرکزی است که در رصدهای بعدی توسط کپلر و سایر تلسکوپ های فضایی و زمینی تایید می شود.
کپلر 22- بی یکی از 54 نامزدی بود که تیم کپلر در ماه فوریه گزارش کرده بود و اولین سیاره ای است که وجودش توسط سایر تلسکوپ ها تایید می شود.
کپلر 22- بی در مقایسه با فاصله زمین از خورشید، حدود 15 درصد به ستاره خود نزدیکتر است و سال آن 290 روز است.
با این حال خورشید آن 25 درصد انرژی کمتری تولید می کند که باعث می شود این سیاره بتواند آب مایع را حفظ کند.
تیم کپلر مجبور بوده است منتظر سه بار عبور این سیاره از برابر ستاره مرکزی شود تا موقعیت آن را از یک به اصطلاح "نامزد" سیاره بودن به "تایید شده" ارتقا دهد.
ویلیام بوروکی محقق اصلی کپلر در مرکز تحقیقات آمس ناسا گفت: "با کشف این سیاره بخت به ما لبخند زد. اولین گذر فقط سه روز پس از آنکه ما تلسکوپ کپلر را آماده کار اعلام کردیم روی داد. ما سومین گذر تعیین کننده را در جریان تعطیلات سال 2010 ردیابی کردیم."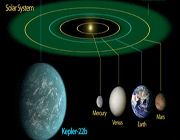 این نتایج در جریان اولین کنفرانس علمی تلسکوپ کپلر اعلام شد.
کپلر تاکنون 2326 جرم آسمانی بالقوه سیاره را شناسایی کرده است که 207 عدد آنها تقریبا اندازه زمین هستند.
در مجموع نتایج حاکیست که شمار سیاراتی که طیف اندازه آنها از هم اندازه زمین تا چهار برابر آن متغیر است احتمالا بسیار بیش از آن است که قبلا تصور می شد.
Kepler 22-b: Earth-like planet confirmed
Astronomers have confirmed the existence of an Earth-like planet in the "habitable zone" around a star not unlike our own.
The planet, Kepler 22-b, lies about 600 light-years away and is about 2.4 times the size of Earth, and has a temperature of about 22C.
It is the closest confirmed planet yet to one like ours - an "Earth 2.0".
However, the team does not yet know if Kepler 22-b is made mostly of rock, gas or liquid.
During the conference at which the result was announced, the Kepler team also said that it had spotted some 1,094 new candidate planets - nearly doubling the telescope's haul of potential far-flung worlds.
Kepler 22-b was one of 54 exoplanet candidates in habitable zones reported by the Kepler team in February, and is just the first to be formally confirmed using other telescopes.
More of these "Earth 2.0" candidates are likely to be confirmed in the near future, though a redefinition of the habitable zone's boundaries has brought that number down to 48. Ten of those are Earth-sized.
'Superb opportunity'
The Kepler space telescope was designed to look at a fixed swathe of the night sky, staring intently at about 150,000 stars. The telescope is sensitive enough to see when a planet passes in front of its host star, dimming the star's light by a minuscule amount.
Kepler identifies these slight changes in starlight as candidate planets, which are then confirmed by further observations by Kepler and other telescopes in orbit and on Earth.
Kepler 22-b lies 15% closer to its sun than the Earth is to our Sun, and its year takes about 290 days. However, the planet's host star puts out about 25% less light, keeping the planet at its balmy temperature that would support the existence of liquid water.
The Kepler team had to wait for three passes of the planet before upping its status from "candidate" to "confirmed".
"Fortune smiled upon us with the detection of this planet," said William Borucki, Kepler principal investigator at Nasa's Ames Research Center.
"The first transit was captured just three days after we declared the spacecraft operationally ready. We witnessed the defining third transit over the 2010 holiday season."
The results were announced at the Kepler telescope's first science conference, alongside the staggering number of new candidate planets. The total number of candidates spotted by the telescope is now 2,326 - of which 207 are approximately Earth-sized.
In total, the results suggest that planets ranging from Earth-sized to about four times Earth's size - so-called "super-Earths" - may be more common than previously thought.
As candidates for planets similar to Earth are confirmed, the Search for Extraterrestrial Intelligence (Seti) has a narrower focus for its ongoing hunt.
"This is a superb opportunity for Seti observations," said Jill Tarter, the director of the Center for Seti Research at the Seti Institute.
"For the first time, we can point our telescopes at stars, and know that those stars actually host planetary systems - including at least one that begins to approximate an Earth analogue in the habitable zone around its host star
**********
راز خرچنگ‌های کشاورز آشکار شد
خرچنگی پیدا شده است که روی بازوهای خزپوش خودش، اصلی‌ترین منبع مغذی‌اش را- که باکتری‌ها باشند- کشت و زرع می‌کند. این موجود سفید و نابینا، عضو خانواده‌ای از خرچنگ‌ها با بازوهای بلند و پشمالوست و اولین نمونه‌اش با نام "کیوا هیرسوتا" (Kiwa hirsuta)، در آب‌های تقریباً جوشان حوالی دودکش‌های زمین‌گرمایی در عمق دوهزار و 300 متری اقیاس آرام جنوبی، به فاصله هزار و 500 کیلومتری جنوب جزایر "استر" پیدا شد.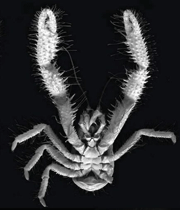 در سال 2006 میلادی بود که دانشمندان موفق به کشف گونه‌ای دیگر از این خرچنگ‌ها موسوم به "کا.پوراویدا" (K. Puravida) شدند که در شیارهای سرد و متان‌زای واقع در عمق یک‌هزار کیلومتری سواحل کاستاریکا زندگی می‌کنند. این موجود، به‌طرزی عجیب و آهنگین، بازویش را تکان می‌داد. "شاید گیج‌شدن، واژه خوبی برای نخستین احساسی باشد که پس از تماشای این موجود به من دست داد"، این را اندرو تربر (Andrew Thurber)، اقیانوس‌شناس زیستی دانشگاه ایالتی اورگون می‌گوید. تنها توضیحی که می‌شد برای چنین رفتاری داد، این بود که این خرچنگ‌ها، به‌نوعی با همنوعان دورتر خود ارتباط برقرار می‌کنند، اما تجزیه و تحلیل شیمیایی بافت اندامی کا.پوریاواها و باکتری‌هایی که روی بازوهای پشمالوی‌شان نشسته بودند، نشان داد که این سخت‌پوستان شگفت‌انگیز، اکثراً از همین باکتری‌ها تغذیه می‌کنند.
تصاویر زیردریایی بی‌سرنشین و پژوهشی بالاخره نشان داد که این خرچنگ‌ها، محصولات غذایی‌ خود را به‌کمک دهان فوق‌العاده پیچیده و پشمالوی‌شان که باکتری‌ها را به‌نوعی از روی بازوی‌شان می‌سابد، درو می‌کنند. حال، پژوهشگران معتقدند که تکان دادن آهنگین بازوها هم باعث تأمین غذای این باکتری‌ها شده است و در واقع آن‌ها را حاصلخیزتر می‌کند. هنوز معلوم نیست آیا دهان پشمالوی این خرچنگ‌ها قادر به احساس جریان‌های زیرآبی هم هست یا نه که اگر باشد، این دهان، به جاندار در شناسایی منابع مغذی بادآورده که موجب تقویت مزارع میکروبی‌شان می‌شود، کمک می‌کند.
میگوهای ژرف‌آبی و دیگر جانورانی هم در گذشته پیدا شده بودند که باکتری‌ها را پرورش می‌دادند، اما به‌گفته تربر که نتایج پژوهش تیم وی در شماره سی نوامبر نشریه علمی PLoS ONE انتشار یافت، این نخستین مدرکی است که نشان از کشاورزی حیوانات می‌دهد. او می‌گوید: "این مدارک، نشان از وسعت نادانسته‌های‌مان از ژرفای آب‌ها می‌دهد و مادامی‌که کاوش‌های‌مان به این نواحی دورافتاده هم دامن می‌گسترد، به ما می‌گوید که چقدر هنوز چیزهای بیشتری مانده که پیدا کنیم." مثلاً کاوش‌های آینده، می‌تواند نشان از وجود کشاورزان زیردریایی بیشتری هم بدهد و مشخص کند آیا این مقوله هیچ ارتباطی از حیث غذایی، با دودکش‌های زمین‌گرمایی و شکاف‌های متان‌زایِ زیرآبی هم دارد یا نه.
Yeti" Crabs Farm Food on Own Arms The "yeti" crab farms bacteria on its furry arms as its main source of food, scientists say.
The crabs""a family of crustaceans with long, shaggy arms that resemble the mythical yeti, or abominable snowman""were discovered only in 2005.
The first known species of these blind white crabs, Kiwa hirsuta, were found near boiling-hot hydrothermal vents roughly 7,500 feet (2,300 meters) deep. The vents are located on the floor of the South Pacific some 900 miles (1,500 kilometers) south of Easter Island (map). (See picture: "'Yeti Crab' Discovered in Deep Pacific.")
In 2006 scientists uncovered another species of yeti crab, K. puravida, living in cold, methane-seeping fissures about 3,300 feet (1,000 meters) deep near Costa Rica.
K. puravida regularly waved its claws slowly and rhythmically, puzzling scientists.
"When I first saw it, 'baffled' would be a good word for how I felt," said study co-author Andrew Thurber, a biological oceanographer at Oregon State University in Corvallis.
Yeti Crab Mystery Solved
One early explanation for the behavior was that the crabs were trying to keep others at a distance.
But chemical analysis of K. puravida's tissues and the bacteria dwelling on its silky arms revealed the crustaceans dine mostly on these bacteria.
Video taken by submarine then revealed that the crabs harvest their crops using highly specialized hairy mouth appendages, which scrape the bacteria off their arms.
Researchers now suggest the claw-swaying helps wash nutrients over the bacteria, essentially fertilizing them.
It remains uncertain whether the yeti crab's hairy appendages might help detect currents in the water. If so, the appendages may help crabs identify the sources of the nutrients that sustain their microbe "farms."
Yeti Crab's Bacteria Farming a First
Deep-sea shrimp and other animals had been found with bacteria growing on them before, but this is the first clear evidence of a deep-sea animal farming its bacteria, said Thurber, whose study appeared November 30 in the journal PLoS ONE.
"This shows us how little we know about the deep sea, and how much more we might find and have to protect, as exploration for resources expands into these areas."
For instance, future exploration could discover more such farmers, he said, as well as whether bacteria at hydrothermal vents and methane seeps are linked, serving as a common foodstuff linking these isolated habitats
آخرین ویرایش:
- -